Why not buy some print volumes of n.paradoxa?
Feminism in global contemporary art...transnational and transgenerational

The print journal n.paradoxa
[ISSN 1461-0434] has published
500+ articles by or about
400+ artists and writers from
80+ countries in
40 vols, 1998-2017

n.paradoxa online
[ISSN 1462-0426]
published 21 issues
(1996-2010)
online with different
content to the print journal
The last of these was the
n.paradoxa's guide to Feminist Art, Art History and Criticism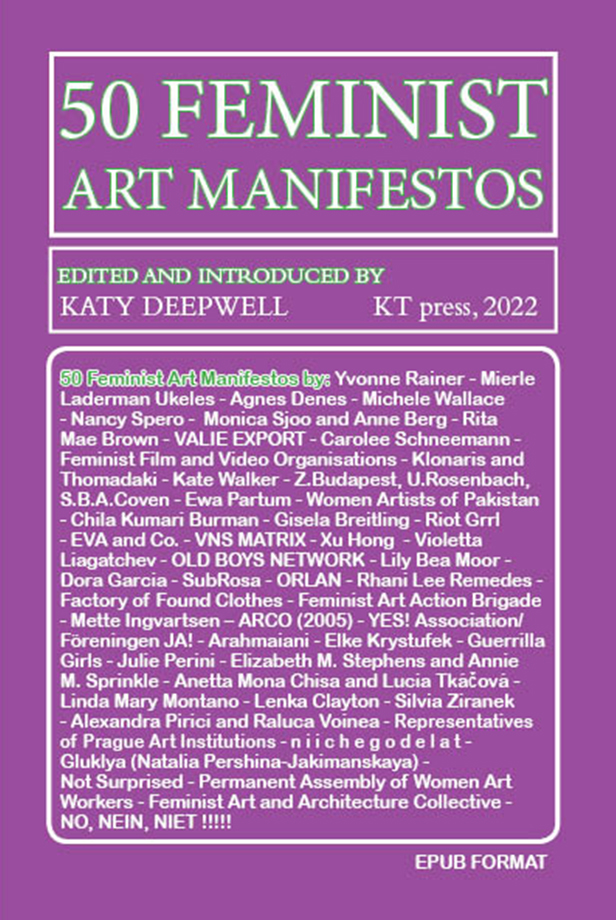 KT press books
in print and as
digital .epubs. Read on ipad, tablets, PC or MAC
Published volumes:
Ends and Beginnings
(vol 40, July 2017)
Organising/ Organisations
(vol 39, Jan 2017)
Polemics/ Contestations
(vol 38, July 2016)
SOUND?NOISE!VOICE!
(vol 37, Jan 2016)
Humour
(vol 36, July 2015)
War/Conflict
(vol 35, Jan 2015)
Lessons from History
(vol 34, July 2014)




Search for 1500+ PhD/MA theses
written about
feminist art
and contemporary women artists
Add your PhD/MA thesis

You can search PhD and Masters theses written about feminist art
and contemporary women artists listed on n.paradoxa's website in the following ways:
Argentina Australia Austria Brazil Canada Chile China Colombia Croatia Czech Republic Denmark Ecuador Finland France Germany Greece Hong Kong Hungary Iceland India Ireland Israel Italy Korea Lithuania Mexico Netherlands New Zealand Norway Peru Poland Portugal South Africa Spain Sweden Taiwan Tunisia Turkey UK USA
Countries of Universities in the theses list. Roll over the country name to see the number of references. Click to see the actual information from any country.
About this project
The aim of these pages is to provide a single point of access to research completed at MA and PhD level on the work on contemporary women artists and feminist art deposited in a national archive or University repository. This information is currently very hard to find beyond national borders. This was the rational for making an international resource available in this area and on this subject. Click here for a statistical visual analysis of the scope of the project.

This section of the site is the result of a research project at Middlesex University conducted by Frances Hatherley and Katy Deepwell from Jan-May 2015 (updated several times, latest in May 2021). We hope this resource will help all researchers build on the work of these scholars and help students identify new projects and ideas.

Although we have located 1510 dissertations and theses at MA/PhD level, we do not regard this resource as complete. We encourage anyone to add the work of students and colleagues to this list. Theses in this database are listed in several languages.

We provided links to where the electronic e-theses or an information page about each one can be found online. We have not stored the PDFs of these e-theses. We did not collect the abstracts, nor did we make a subject-based search directory. Theses in paper formats where no link is available can be found in University libraries.
The widespread development of electronic University repositories and e-thesis collections since 2000 has made it possible to link directly to the PDF of these theses, where known. We have added information about where the thesis has been published as a book, even after several years of further research. You can also search author's names in n.paradoxa's booklist.

We did not list the names of the lecturers and Professors who supervised this work, but they are given in the actual theses. Their encouragement and sponsorship of this work is important. There are significant clusters of research projects which are the result of individual Professor's activities at different institutions, just as there are significant thematic shifts over time regarding how feminist art and women artists individually and collectively have been studied.
This resource does include some MA and MFA projects deposited in national archives and University repositories, largely from USA and Canada. BA projects at NCAD in Ireland were also included. Many art schools have not yet put all their dissertations and theses online in repositories or national collections, so we know that there are gaps in what is available.

Most of the MA/PhD theses listed are written after 1974, many are much more recent (from the last two decades). It was not possible in many countries to write a PhD in art history on any subject post-1945 or even post-1960 until the 1990s. Since Phds in Fine Art started (mid-1990s), many artists have written PhDs about their own practice. We included PhDs in art education (post-16) where they explored feminist pedagogy. Some BA theses from Ireland and Austria are included.
This archive is not comprehensive and, like all databases, is only as good as the information which we managed to collect and add to it.
We searched the following online resources to make this list: International BASE (Bielefeld Academic Search Engine) (Germany); Open Access Theses and Dissertations (OATD) (USA); Directory of Open Access Repositories (OpenDOAR) (uses Google Scholar to search international list of University repositories); WorldCat Libraries global catalogue; COPAC (UK Universities); DART-Europe; North America ProQuest Dissertations and Theses (Open access, as well as a paywalled resource). Plus the following national resources, as well as some individual University repositories: Trove (Australia); Biblioteca Digital Brasileira de Teses e Dissertações (Brasil); Theses Canada (Canada); Theses France (France); Deutsche Nationalbibliothek (Germany);
HKU Theses Online (HKUTO) (Hong Kong); Shodhganga (India); Universidad de Chile Bibliotecas (Chile); RED de Repositoros Latinoamericanos; Brazilian Theses (Brazil); University College Dublin theses (Ireland); eLABa ETD (Lithuania); NARCIS (Netherlands); NZResearch(New Zealand); Repositório Científico de Acesso Aberto de Portugal(RCAAP)(Portugal); China Doctoral Dissertations Full-Text Database (P. R. China); DiVA (Scandinavia); ETD Portal (South Africa); TDX Theses (Spain) National Digital Library of Theses; Dissertations in Taiwan (Taiwan); EThOS (United Kingdom)(Open access search, paywall to PDFs); Theses Collection Wales (Wales).
We looked for all theses in the following areas using keyword searches: feminist art; women's art movement/collectives/exhibitions; women artists (studies of women artists working post-1960); gender and representation, including queer/lesbian studies; cyberfeminism; feminist art history (excluding those from pre-1960); feminism/ aesthetics/ contemporary art; art education studies (informed by feminist/critical pedagogy) about women students (post-16).
N.B. We did not include theses in feminist art history about women artists working prior to 1960.

If you wrote or supervised a PhD or a Masters/MFA project (of more than 10,000 words) on feminist art, feminist/women's art movement and its institutions, cyberfeminism in the visual arts, exhibition analyses of feminist art, feminist art criticism, contemporary feminist pedagogy in art schools, feminist art history on contemporary women artists' work (post-1960) (in any language or in any country) and it is available in a University or national archive, we would be very pleased to include it. Please fill in the form here.
All n.paradoxa articles are listed separately. To search these, Click here
To see a list of all books in the database, alphabetically by author's name, Click here.
Notes: For authors' last names beginning with "A", type capital letter "A" and/or use the first 3 letters of their last name. The country search uses full English names, e.g. The Netherlands, except for USA and UK and gives the country of the University only, not nationality of author or subject of their research. Dates given are the date of award of the degree and can be searched one year at a time. Title search is limited to words used in the title, it does not provide a keyword or subject search facility. The searches are for one word only, no boolean (multiple) searches are supported: try cuerpo or body; maternal or mother; any artists' last name; identity or education.
If n.paradoxa does not list something significant, please contact us so we can add it.