Local/Global Dynamics in Feminism and Contemporary Art conference, Middlesex University, 3 July 2017

The conference, Local/Global Dynamics in Feminism and Contemporary Art, was designed as a celebration of the 20 years of n.paradoxa (1998-2017).
This page documents the event and day.
SPEAKERS:
Katy Deepwell (founder and editor of n.paradoxa: international feminist art journal and Professor of Contemporary Art, Theory and Criticism, Middlesex University)
Giulia Lamoni (art historian, Investigadora FCT, Instituto de Historio de Arte, Lisbon)
Ebru Yetiskin (curator, Associate Professor in Sociology, Media Theory, Digital Humanities. Istanbul Technical University)
Emanuela de Cecco (art critic/art historian, University of Bozen-Bolzano, Italy)
Martina Pachmanova (art historian, Associate Professor, Katedra teorie a dějin umění, VŠUP/UMPRUM v Praze, Department of Art Theory and History, Academy of Arts, Architecture and Design in Prague)



Katy Deepwell introduces conference - Basia Sliwinska reads Giulia Lamoni's paper.
Emanuela de Cecco and Ebru Yetiskin speaking.

Martina Pachmanova speaking.
You can read the booklet prepared for the celebration where over 100 contributors to n.paradoxa offered a short statement about writing for the journal and the new directions it encouraged in their work.
Read PDF (3.4 MB)
Four contributors provided MP4 files and you can follow the links to this online material from the PDF for Katrinem, Eileen Legasi-Ramirez, Paula Levine, Boryana Rossa.
Breakout sessions:
Women's Film and Video work, Women performance artists
Laura Leuzzi (ReWindItalia, Duncan of Jordanstone College of Art & Design)

Women Artists working with Sound
Gisela Weiman (artist, Germany)

Activism in the Visual Arts
Hilary Robinson (Middlesex University)

Rethinking Domesticity and Women's Labour
Alexandra Kokoli (Middlesex University)

Generating/Creating Histories of Contemporary Art and Feminism
Katy Deepwell (Middlesex University)
A key part of the day, shown in the photos below, was the discussion of attendee's posters on recent projects in art, theory and history.

Photos from the day, taken by Emelia Gatley. Image of Cake cutting by Carron Little.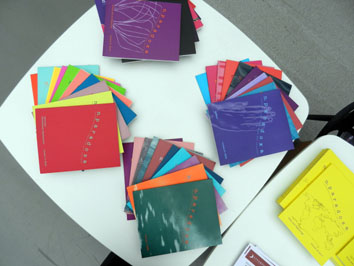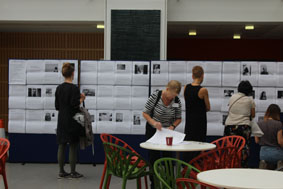 Volume of n.paradoxa were on sale and display; Contributor's statements were shown as posters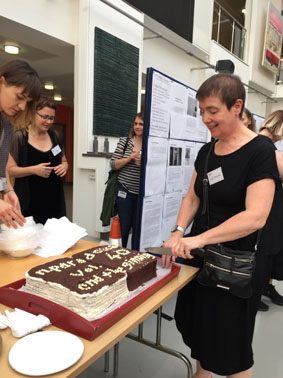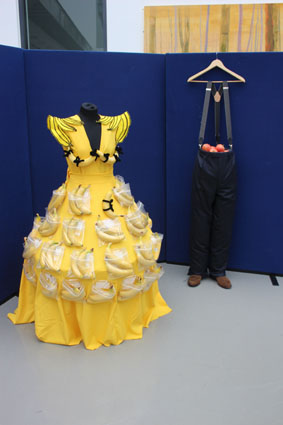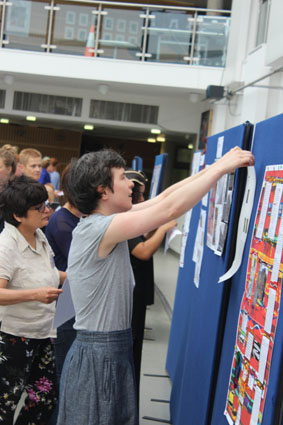 Katy Deepwell cutting celebratory cake for 40 volumes of n.paradoxa; Fruit sculpture prepared by BA Fine Art students at Middlesex University, reversing gender stereotypes; Attendees hanging their posters.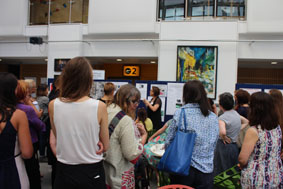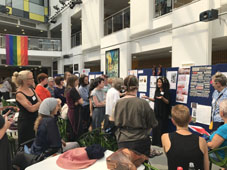 Tal Dekel presenting her poster, Michelle Dulce presenting her poster.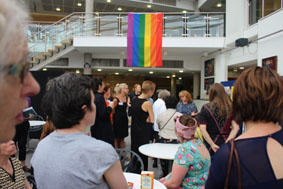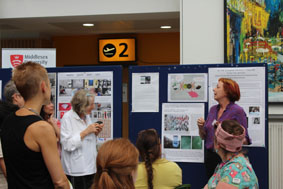 Pauline Barrie presenting her poster; Sheila Gaffney answering a question by Gisela Weiman.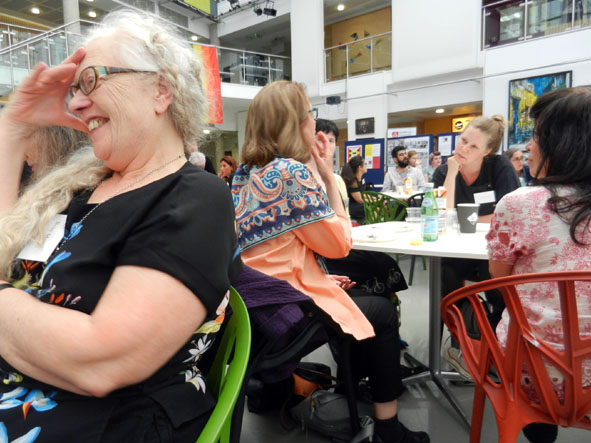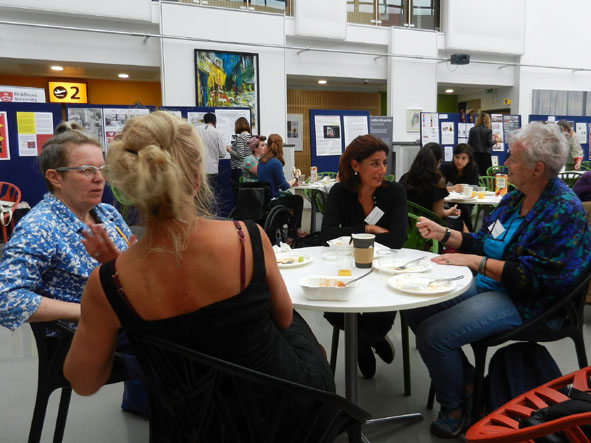 Attendees enjoying lunchtime discussions.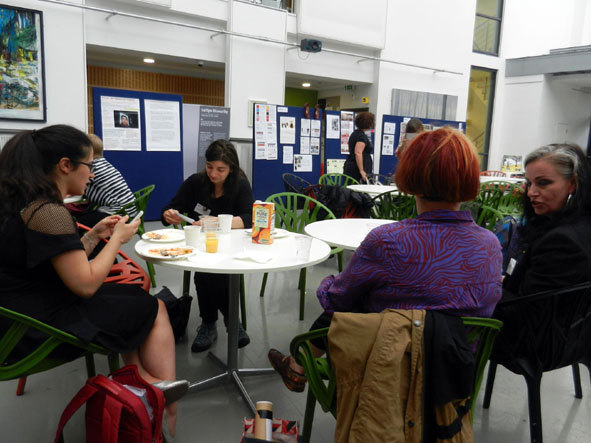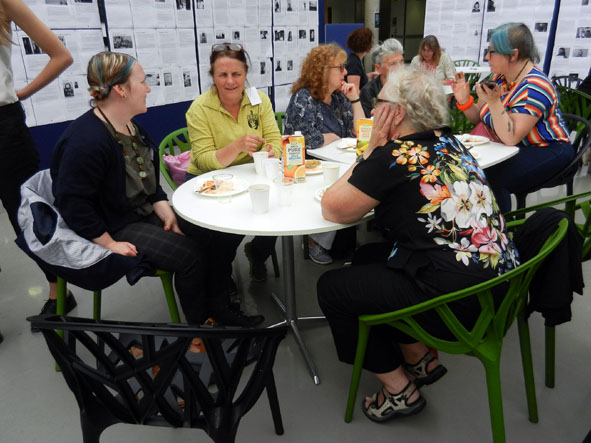 ACKNOWLEDGEMENTS
This was a Create/Feminisms event from the Department of Visual Arts, ACI with the assistance of students from BA Fine Art, and staff in Fine Art/Visual Culture. This event was supported by ADRI research funds at Middlesex University and KT press, publishers of n.paradoxa: international feminist art journal. Organiser: Katy Deepwell  K.Deepwell[@]mdx.ac.uk, katy[@]ktpress.co.uk
Following the conference, Katy Deepwell and Laura Leuzzi set up an email list for feminist researchers looking at local/global dynamics in feminism and contemporary art. This email list is hosted by JISCmail. Any researchers, critics, artists, curators are welcome to join and contribute relevant content and postings.