Katy Deepwell (editor)
50 Feminist Art Manifestos (ebook)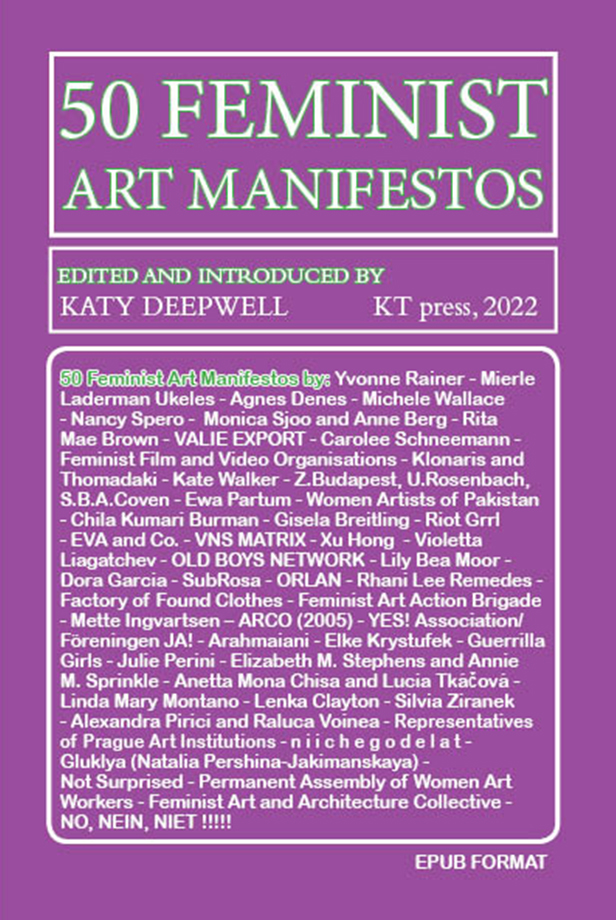 ISBN: 9780992693459
This is the epub version of the print book
Please note the design of the ebook is different from the print. The text is the same.
This ebook is also available from Amazon Kindle, Ingram Spark, and Google Play.
168 pages, 50 manifestos
2022
Download for ipad or iphone using ibooks!
Read on PC/MAC with an epub reader
Please note: Epubs are not PDFs
This anthology contains the original manifestos of 50 women artists/feminist groups/feminist protests. Introductory essay by Katy Deepwell, with notes on each manifesto.
What is a manifesto? A political programme, a declaration, a definitive statement of belief. Neither institutional mission statement, nor religious dogma; neither a poem, nor a book. As a form of literature, manifestos occupy a specific place in the history of public discourse as a means to communicate radical ideas. Distributed as often ephemeral documents, as leaflets or pamphlets in political campaigns or as announcements of the formation of new parties or new avant-gardes, manifestos above all declare what its authors are for and against, and ask people who read them to join them, to understand, to share these ideas. The feminist art manifestos in this anthology do all of these things as they explore the potential and possibilities of women's cultural production as visual artists.
Manifestos by: Yvonne Rainer - Mierle Laderman Ukeles - Agnes Denes - Michele Wallace - Nancy Spero - Monica Sjoo and Anne Berg - Rita Mae Brown - VALIE EXPORT - Carolee Schneemann - Feminist Film and Video Organisations - Klonaris and Thomadaki - Kate Walker - Z.Budapest, U.Rosenbach, S.B.A.Coven - Ewa Partum - Women Artists of Pakistan - Chila Burman - Gisela Breitling - Riot Grrl - EVA and Co. - VNS MATRIX - Xu Hong - Violetta Liagatchev - OLD BOYS NETWORK - Lily Bea Moor - Dora Garcia - SubRosa - ORLAN - Rhani Lee Remedes - Factory of Found Clothes - Feminist Art Action Brigade - Mette Ingvartsen – ARCO - YES! Association/Föreningen JA! - Arahmaiani - Elke Krystufek - Guerrilla Girls - Julie Perini - Elizabeth M Stephens and Annie M. Sprinkle - Lucia Tkacova and Anetta Mona Chisa - Linda Mary Montano - Lenka Clayton - Silvia Ziranek - Alexandra Pirici and Raluca Voinea - Representatives of Prague Art Institutions - n i i c h e g o d e l a t - Gluklya (Natalia Pershina -Jakimanskaya) - Not Surprised - Permanent Assembly of Women Art Workers - Feminist Art and Architecture Collective - MANIFIESTO NO, NEIN, NIET !!!!!
KT press ebooks are not PDFS. The electronic ebooks are not available in print.
KT press .epub files are DRM-free and can be read on i-pads, i-phones, purchased and read on different devices like Amazon's Kindle, Sony Reader or Nook. They can be downloaded to a PC or MAC computer/ laptop and then read through an .epub reader programme.

[There are many Epub reader programmes available to install and download for free to enable reading ebooks on a computer: Mozilla Firefox's plug-in epub reader, Chrome's epub reader app called Readium, Nook for PC, Sony reader, Adobe Digital Editions, Kindle for MAC or PC (the latter requires conversion of .epub to .mobi in Kindle Fire), On MAC, try Calibre.]

Where KT press' .epubs have video clips: two different versions are available:- one made specifically for i-pad reading with embedded video: the other, a lighter smaller version with external links to video clips, read online. The second version requires the computer or device on which you are reading to have a wi-fi internet connection and a media reader installed to view.

Please note: Many .epub readers will not support video clips in epub files.
Exceptions are ibooks (ipad or iphone) and Mozilla Firefox plug-in.