Feminism in the visual arts...
n.paradoxa has published
500+ articles by or about
400+ artists and writers from
80+ countries in
38 vols since 1998,
plus over 1000 resources on the information pages
Read new section on
Feminist Art Topics
Current volume:
Polemics/ Contestations
(vol 38, July 2016)
Read more...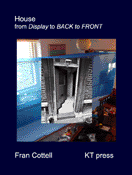 KT press ebooks
digital .epubs. Read on ipad, tablets, PC or MAC
Why not buy a
gift subscription to n.paradoxa for a feminist friend as a seasonal gift? a birthday present?
Future volumes:
Organisations/Organising
(vol 39, Jan 2017)
Ends/Beginnings
(vol 40, July 2017)

Published volumes:
SOUND?NOISE!VOICE!
(vol 37, Jan 2016)
Humour
(vol 36, July 2015)
War/Conflict
(vol 35, Jan 2015)
Lessons from History
(vol 34, July 2014)
Religion
(vol 33, Jan 2014)




Information for authors
n.paradoxa
international feminist art journal
n.paradoxa publishes the work of women writers, critics, artists and curators on the work of contemporary women artists from anywhere in the world.

If you would like to submit an article on contemporary women's art practices (visual arts only, on women artists working post-1970), discussions of new directions in feminist theory in relation to their work or interviews with women artists or feminist curators, please contact the editor.

n.paradoxa publishes new and innovative research by women artists, curators, scholars and writers focused on artworks produced by contemporary women artists from around the world today. The aim of this journal is to rethink the local and specific in relation to the national, international and global dynamics of art today and to promote new directions in feminist research and scholarship about women's art practices in the field of contemporary art. The journal encourages work which is comparative, transnational, multi-generational and explores nationalism(s) and discriminations of all kinds beyond and including those created by ethnicity, class, sexuality, racism and sexism (now commonly referred to as intersectionality). n.paradoxa encourages articles which explore more than one work or one artist and offer in-depth comparative analysis.
Articles are commissioned through negotiation with the editor: Katy Deepwell.
Please send (more than one month in advance of the copy deadline) an outline (1-2 paragraphs) and a short resume (1 page only). Please also outline the relation of your proposal to the theme of a particular volume. Do not send finished articles before negotiation with the editor.
Email: katy@ktpress.co.uk Articles are published in print and in PDF format.
Updated: 6 May 2016

Volume 39 (Jan 2017) Organisations/Organising
(Copy deadline: 1 November 2016, publication date: Jan 2017)
This volume aims to present articles which examine the politics, history and strategies of the last four decades in women's visual arts organisations ("post-1970"-present) and the models of practice/organisation they have established in exhibitions, in women's groups, in publications, in archives and online networks. Articles which explore particular groups of women artists (founded post-1970-present) from any part of the world are encouraged, as well as trans-national and trans-historical analyses. Interviews with women who were founder members or participants are also encouraged. The analysis of the emergence of new forms of art practice in relation to the histories of these groups is encouraged. The key point of this volume is to examine the strategies adopted by women artists in founding organisations. Since the 1970s, many new forms of social organisation and activism have been established amongst women artists working in groups, modelled on practices of consciousness-raising, campaigning and small group work in the women's movement. In the 1980s, many of these smaller groups formalised into charities/not-for-profit organisations or NGO's for women artists working both nationally and internationally or developed recognisable campaigning groups. In the late 1990s-2000s, some of these organisations closed, some became archives; others developed different models of organisation to survive, including as museums and mentoring organisations. Articles examining the reasons for these changes in direction, organisation and levels of support are welcomed. Women's art organisations have a long history and models of exhibition and social organisation for women artists have changed significantly from the Women Artists' Associations established in the nineteenth/early twentieth century (who were often very ambivalent about feminism), even though they had organised on the basis of gender and were concerned about women's education or professional careers as artists. The question of whether these "new" patterns of organising constitute "activism" or "campaigning" for women artists or are just recognisable tools for artist's self-promotion adopted by avant-garde groups will be a key point of discussion within this volume. Collective authorship, issue-based and collaborative works were the key outcomes of the many activities with which women artist's groups have engaged and discussion of this is welcomed.
Volume 40 (July 2017) Ends and Beginnings
(Copy deadline: 1 May 2017, publication date: July 2017)
This volume will mark 20 years of n.paradoxa in print. The idea behind the topic 'ends and beginnings' concerns how we mark events, series, achievements, cycles of work or old vs. new projects. We tend to 'commemorate' things which have ended or been revived. Endings provide a chance for reflection, review and delineate change. We mark beginnings and openings with launches and parties as we celebrate something "new" in the world.
This special volume represents an end to what has been two decades in print, but this end is also a beginning for another future and further work. Reviews of n.paradoxa's work will not be the focus for the volume. Instead this is an opportunity to think about what 'beginning' does feminist debate in art history and criticism now anticipate? What future agenda for feminist thought and work should or could be begun? What has finished that should be reflected upon or changed? What needs to be begun? This volume will explore debates about the past, present and future, and how the past in the present is central to thinking about the future through the theme of 'ends and beginnings'. Any articles which address this in relation to contemporary women artists' work and interpretation of that work are welcome. n.paradoxa is looking for articles with strong transnational, transcultural and transgenerational approaches.
KT press operates as a not-for-profit company. Editor: katy@ktpress.co.uk