VIEW or PURCHASE
n.paradoxa volumes
SEARCH ARTICLES
by country, author, title
or full text
DISCOVER n.paradoxa's Feminist Art Topics project

SUBSCRIBE or PURCHASE
print and/or electronic



ORDER by post HERE
This site uses cookies
COOKIE POLICY
READ
n.paradoxa online archive
or RIP-OFF.2
or n.paradoxa's Guide to Feminist Art, Art History and Criticism
or n.paradoxa's feminist art salons
FIND
books on feminist art
feminist exhibition catalogues
feminist art anthologies
feminist art manifestos
magazines on women artists/ feminist art
or one-off special issues
1000+ MA/PhDs theses
feminist archives
statistics
timelines
links
feminist film festivals

WATCH
feminist art seminars
n.paradoxa/ICA (2011)
JOIN our mailing list

RECOMMEND n.paradoxa for purchase to your University library

DOWNLOAD a poster for your noticeboard

READ
n.paradoxa's blog

nparadoxa on Facebook / KT press ebooks



@n_paradoxa


n.paradoxa received support from the Andy Warhol Foundation for the Visual Arts (2012-2014) and
the Flo Art Foundation (2011-2012)
Copyright: KT press, 2016
Registered in London
Company no. 3492334
ktpress@ktpress.co.uk


Feminism in the visual arts...
n.paradoxa has published
500+ articles by or about
400+ artists and writers from
80+ countries in
39 vols since 1998,
plus over 1000 resources on the information pages
Search through
1000+ Feminist PhD/MA theses
If you wrote one, and it is not listed,
Add your own here
Current volume:
Organising/ Organisations
(vol 39, Jan 2017)
Read more...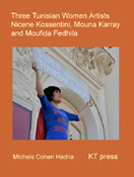 KT press ebooks
digital .epubs. Read on ipad, tablets, PC or MAC
Why not buy a
gift subscription to n.paradoxa for a feminist friend as a seasonal gift? a birthday present?
Future volume:
Ends and Beginnings
(vol 40, July 2017)

Published volumes:
Polemics/ Contestations
(vol 38, July 2016)
SOUND?NOISE!VOICE!
(vol 37, Jan 2016)
Humour
(vol 36, July 2015)
War/Conflict
(vol 35, Jan 2015)
Lessons from History
(vol 34, July 2014)




n.paradoxa
international feminist art journal
Order single print volumes >> Individual Subscriptions >> Order for a Library/Institution
Current: Volume 39 Organising/Organisations (Jan 2017)

UK/Europe

USA/Canada/ROW

Price for individuals



Price for institutions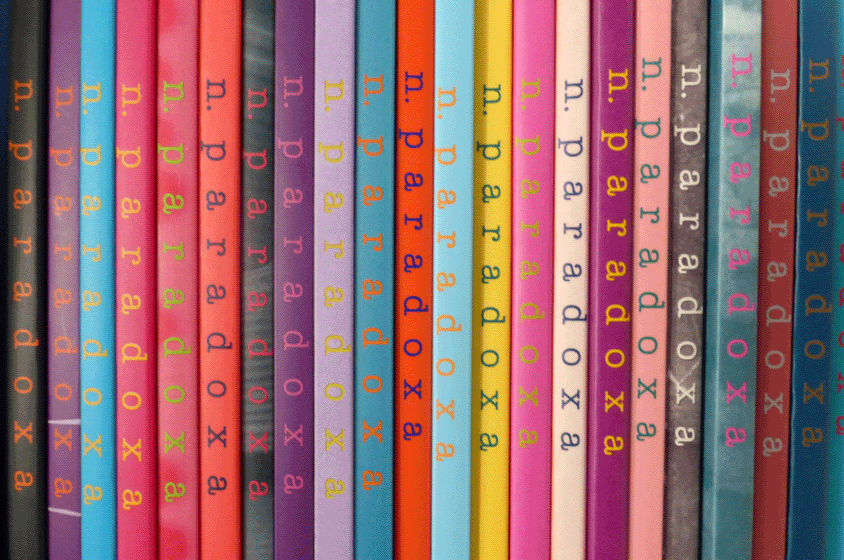 n.paradoxa (ISSN: 1461-0434) publishes scholarly and critical articles written by women critics, art historians and artists which extend feminist art, theory, criticism and history on and about the work of contemporary women artists post-1970 (visual arts only) working anywhere in the world.
The editor is Katy Deepwell.
Print price above for one volume includes postage. Print copies can be posted anywhere in the world. Electronic subscriptions or individual articles are also available. Order online or by post
The current volume of n.paradoxa is also available in the following art bookshops:
UK: Tate Modern, ICA and Serpentine Gallery in London; Arnolfini, Bristol; Ikon Gallery, Birmingham; Aye-Aye Books @ CCA, Glasgow.
Europe: Wiels, Brussels; CCA Andratx, Mallorca; Jeu de Paume, Paris; Motto, Berlin.
If you would like to contribute, read the information for authors or write to the editor.
KT press is the publisher and operates as a not-for-profit publishing company whose aim is to promote understanding of women artists and their work.
KT press also publish ebooks on contemporary women artists.